3-in-1 Special Offer Till March At Mason Adventures
3-In-1 Special Offer at Mason Adventures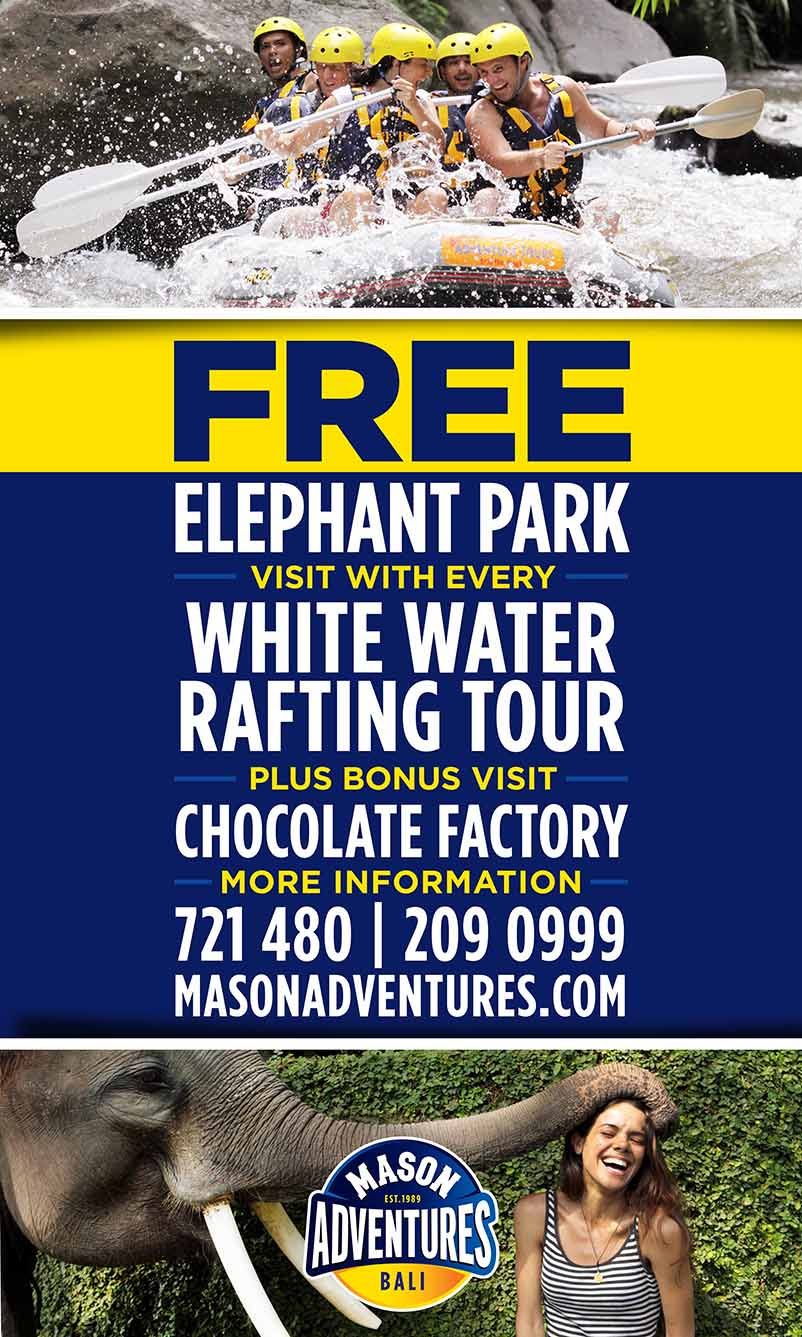 Mason Adventures | Jl. Bypass Ngurah Rai, Pesanggaran 80221 Bali | Ph: +62 361 721 480 |
Feed the adrenaline junkie in you and go for some quality and heart-pounding adventure at Mason Adventures. If you visit now until 31 March 2018, you'll get free Elephant Park entries for every White Water Rafting Tour AND a bonus Chocolate Factory visit!
Embark on an exhilarating white water rafting experience and then meet 31 endangered Sumatran elephants at the Taro Elephant Park, 4 of which were born here. You can interact and get up close to these gentle giants in a safe and comfortable environment. Next, it's time to indulge the Chocolate Lover in you with a BONUS Chocolate Factory Visit. Mason Gourmet Chocolate is inspired by nature and crafted to perfection using only the best hand-picked cocoa beans sourced throughout the Indonesian archipelago.
With almost 30 years of offering the most comprehensive 5-Star adventure activities to the tourism industry, with a multitude of interactive day tours, Mason Adventures is still Bali's number one favourite for premium quality signature tours that come with the finest facilities, service and value for money across the island. For more information, please contact +62 361 721 480 or visit the website at www.masonadventures.com.
---
Bali Plus Magazine
Bali's Biggest Little Guide Book
Bali Plus Magazine is one of the oldest tourism and travel magazines on the Bali Island. Entering its 21st year in 2017, this monthly pocket-sized and complimentary magazine was created with the aim to provide useful up-to-date information for travellers and tourists on everything unique and relevant in Bali; from Balinese Hindu culture and ceremonies to the latest, most fashionable events and launches that are taking place across Bali Island. Available in English, and upon request Japanese and Mandarin, this award-winning magazine has a strong online presence and engagement via its website, daily e-newsletters and social media platforms which are updated daily.
Bali Magazine