Going Solo? A Girl's Guide To Bali
Thanks to the immense success of "Eat Pray Love", plenty of girls are dreaming of their chance to embark on a trip just like Julia's. But travelling alone can be quite intimidating especially for ladies, but don't worry, Bali's quite safe for females (just be alert, and don't do anything we won't!).
Aside to spiritual and cultural attractions, Bali is also home to some of the finest restaurants, shopping, spa and clubs. You'll meet plenty of friendly locals and like-minded travellers to keep you company along the way.
Photo by: photos.com
So aside to lounging on beaches, exploring waterfalls, dining at some of the best restaurants orpampering yourself silly, here's a little list that we've put together to help you hone your spiritual and cultural side when you are in Bali.
Water Temples & Purification
Photo by: alfa-img.com
Bali is renowned for its mesmerizing culture. If you would like to experience a spiritual purification ritual, then we recommend heading to the Tirta Empul Water Temple - the site of a holy mountain spring and a national cultural heritage site. Here, you could try a purification bathing ritual by immersing yourself in one of the purification pools and dipping your head below the water spouts. Make sure that you are dressed respectfully (wear a sarong), follow the queue and bring along some offering before immersing yourself in the waters. Otherwise, the temple site is also great for sightseeing and photography.
Do note that women on their periods are not allowed to enter any holy sites or temples across Bali.
Photo by: Bagus Jati Yoga &Meditation
Bali is also the hub for yoga and meditation. There so many places that you can choose. Of course Ubud would be ideal, as it is the centre of everything artistic and cultural in Bali. Here you'll find plenty of groups, classes and retreats for meditation, healing, detoxing and yoga.
Culture & Tradition
Photo by: Morgana Rae-Galaudet
While you're in Bali, do grab the chance to learn how all about the Balinese lifestyle. Try your hand at making Balinese offerings (it's not as easy as it looks), Balinese cooking, painting, carving and so much more. One must-try activity is Balinese dancing, and while it is tough to learn, it is indeed fun to attempt. Or get your hands dirty and try being a Balinese farmer for a day. With is so much to see and do, the trick is to plan your days properly.
Shopping and Other Adventures
Photo by: Bali ATV Ride
Love the extreme? Bali's not all about relaxing and lounging on the beach! Try cycling across North Bali, try a Flying Fox, go on an ATV ride, White Water Rafting, Helicopter Rides and for those who love animals; go on an animal safari. All these and more are available right here on the island! Professional guides are always on-hand to ensure that you remain safe, so don't worry!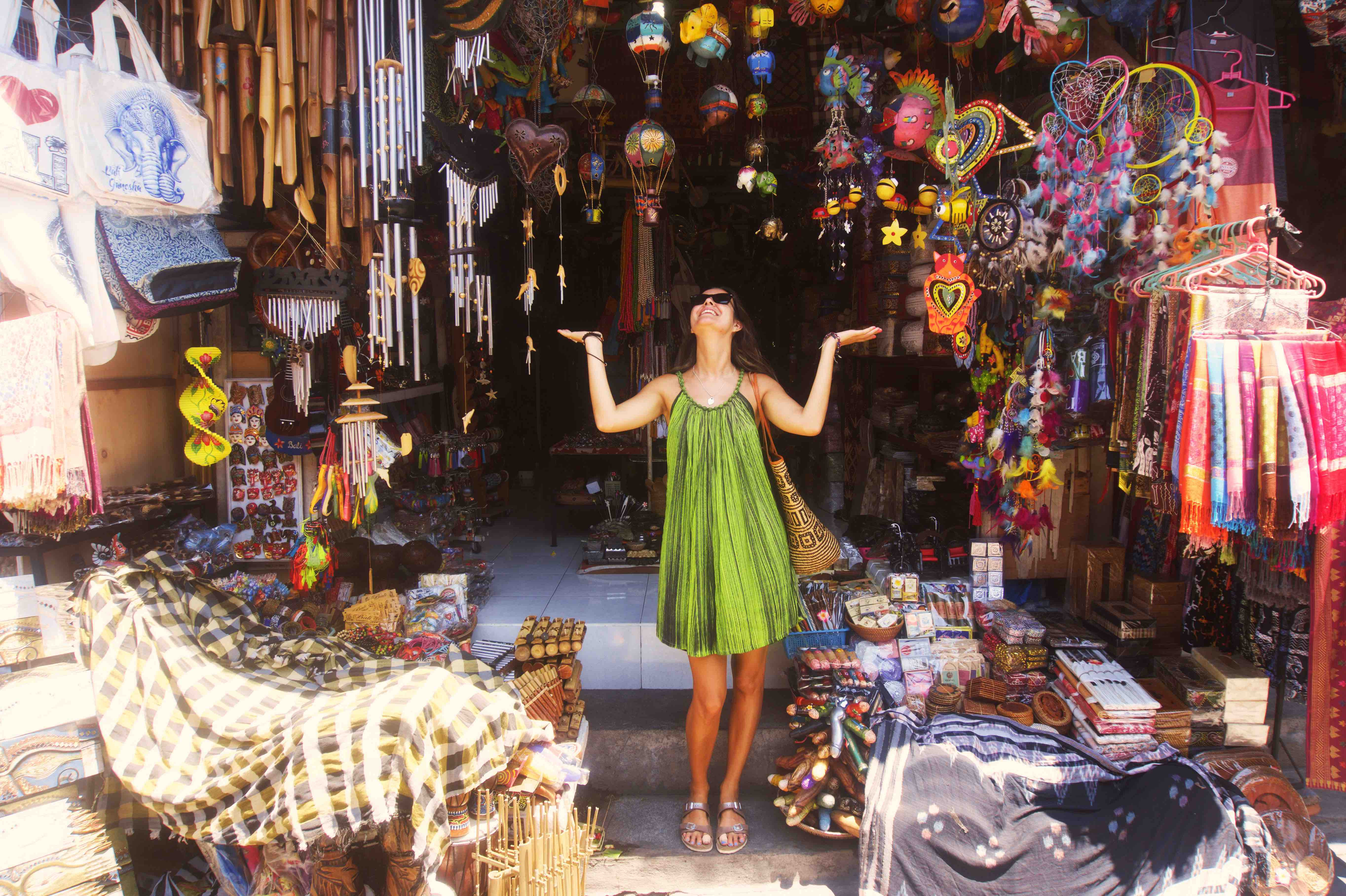 Photo by: Mireia Quix
Shopping, every girl's favourite past time. Take your time to stroll through various Traditional Markets around Bali - some popular ones include the Ubud Traditional Market and the Gianyar Street Night Market. For something more up to date, just head down to Seminyak for some of the most fashionable and chic boutiques around.
Photo by: Bali Hai Cycling Penglipuran
Foodies would love a food tour of Balinese and Indonesian cooking so why not go on one? Or take a cooking class or two and learn all about the making and ingredients of traditional local cuisines that you can even try at home; your friends and family would be sure to love!
Again, the options are endless! Just remember, if you want to embark on a solo trip to Bali, first thing that you have to remember is your safety. Been to Bali on a solo trip? Share your stories with us via our Facebook (Bali Plus) or Instagram (@baliplus) and stand a chance to be featured!