Legendary Nights Out In Bali - The Hottest Places In Town
Bali is great for sightseeing, watersports and tanning from the morning to the afternoon. But did you know that Bali has a really amazing night scene? Like New York, London and Miami, Bali's night life is fantastic for those who thrive after dark. As long as you have the energy, outfit, friends, and options for what to do at night in Bali, your Big Night Out on the island promises to be nothing less than legendary.
Take your pick - hang out, party, or celebrate with the finest champagne, wine, beer and the most delicious cocktails, along with stylish venue, trendy music and fashionable crowds, Bali has it all. Check out the places listed below to give you an idea of where you should head out to for a thrilling night out here in Bali.
Gracie Kelly's (Irish Pub)
Gracie Kelly's boasts to be Bali's First (and only) original Irish Pub. The interior recreates a 100-year-old shop pub in rural Ireland. Play some pool or darts and enjoy wholesome home cooked food from Gracie's Kitchen whilst sipping a pint. There's a really fun live entertainment every evening from 8pm onwards performing current favourites and popular Irish tunes, perfect for the whole family to dance along to! Every Tuesday and Thursday nights are Quiz Night, with proceeds going to Soleman Charity and the biggest party of the year here takes place on St Patrick's Day!
Hard Rock Cafe Bali
There's always something amazing happening at Hard Rock Cafe and here in Bali, it is no exception. Hard Rock Cafe's stellar reputation as the world's favourite dining and music go-to is what makes it a haven for fans of music, food and great times. Whether you're looking to partake in a legendary meal, dance the night away to exciting live entertainment or take in historic music memorabilia, you won't want to miss a visit to Hard Rock Cafe Bali. And don't forget – it is Party Night every night here at the Hard Rock Café Bali!
KORI Restaurant, Bar & Catering
KORI Restaurant, Bar and Catering is a legend in its own right. One of Bali's longest serving, leading establishments, KORI is also a favourite hangout for those looking for a quality night out. Relaxed and cosy, enjoy imported wines, delicious chilled cocktails and ice-cold beers in an exotic and idyllic Bali garden setting. Ladies Night is every Wednesday with live music and entertainment on both Wednesday and Friday nights. This iconic and legendary restaurant is beautifully tucked away in the historic streets of Poppies Lane II in Legian and offers consistently delicious, mouthwatering dishes since 1998.
MÉTIS Lounge
Bali's award winning MÉTIS Restaurant, Lounge & Gallery is famous for its exquisite French cuisine, fine selection of wines and a gallery with the most impressive collection of contemporary and antique art. This elegant sanctuary for connoisseurs and art lovers is, at most times, packed wall-to-wall with the most beautiful and fashionable people and no wonder, as those looking for an elevated experience convene here to enjoy life's finer elements. The Lounge features an open bar facing paddy fields with a variety of entertainment throughout the week, including private parties and events and culminating with Aperochic on Fridays. Perfect for every occasion; the award-winning restaurant creatively pairs classical fine dining concept with lush tropical beauty in its elegant establishment located in the heart of Seminyak.
Cocoon Beach Club
Cocoon Beach Club is Seminyak's most popular and sought-after beachfront establishment famous for its infinity pool, amazing cocktails, dining options, poolside lounging and incredible parties. What better way to spend your evenings than in one of its luxurious champagne beds or in your very own VIP Cabana, sipping cocktails and nibbling on selections from the delicious grazing menu as the DJ spins smooth tunes under the Bali sky. The restaurant at Cocoon also delivers truly international cuisine with dishes fusing the best of Asian and modern European flavours and produce. Upstairs at Cocoon is a year-round dedicated function, weddings and events room catering for up to 200 people for a cocktail style party or 100 people for a seated dinner.
Ayodya Resort Bali
This magnificent luxury 5-star resort not only promises a marvellous and alluring Bali escape; the stretch of verdant lawn located between the beach's golden sands and the hotel is also the site for its fantastically fun Summer Party that takes place monthly. With DJs and live entertainment, the sea breeze, amazing views, great cocktails and a luxurious ambience, a night out here on Mengiat Beach would be pretty hard to beat!
Spice by Chris Salans Seminyak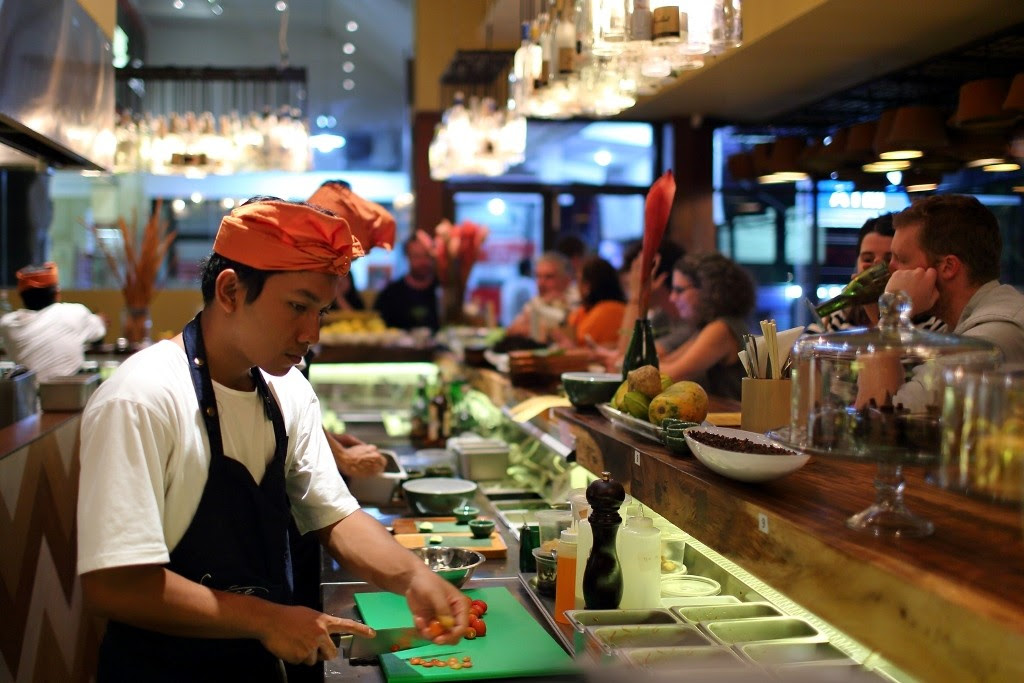 Now, this is one of the best places to head on to right before your big night out. The iconic Spice by Chris Salans has just opened its doors in vibrant Batu Belig! This stylish gastro-bar is the third Spice by Chris Salans to open in Bali, with the first being in Ubud and the second one in Sanur. Serving innovative drinks and a cuisine based on the surprising flavours and healing properties of Indonesia's aromatic roots, herbs, and spices, Spice by Chris Salans is an affordable way to experience the genius of Chris Salans's internationally acclaimed cuisine based on Indonesian flavors and French techniques, made famous by his flagship Mozaic Restaurant Gastronomique in Ubud, central Bali. It is a culinary approach that has now become an influential movement and propelled Chef Salans to celebrity in Southeast Asia and beyond.
Ryoshi House of Jazz
What originally started out as a simple sushi shack by the beach has quickly grown to a chain of restaurants throughout the island's most popular destinations, and for good reason. While you can experience lunch or dinner at Ryoshi in Sanur, Ubud or Kuta, their Seminyak venue offers exceptional musical talent that provides great entertainment throughout the evening to accompany your food and drinks including some of the best local and well-respected international musicians. Jazz nights are every Mondays, Wednesdays and Fridays with a bit of funk and soul in the mix. Keep your eyes & ears open for Ryoshi's music schedule to see who special is coming in next – and pop in to listen to the Rio Sidik Quintet a very popular local group featuring renowned trumpet player, Rio Sidik, that rocks the house once a week.
It's time to get ready for your big night out! As with everywhere in crowded venues, take care of your belongings and enjoy. We hope you've found this post useful and do share your family holiday snaps, stories and videos with us. Follow us on Facebook and Instagram and tag us for a chance to be featured!
Bali Magazine