Another new villa from the Aayan Group has made its exciting debut, offering vacationers in Bali a unique and beautifully designed boutique getaway perfect for slow travel, in the exclusive neighbourhood of Pecatu, South Bali. 
Surrounded by a beautifully manicured garden and with partial views of the ocean, Poco Poco Villas' distinctive design integrates seamlessly with the land's natural contours, creating an exceptional luxury property with three distinct levels.
Blending with its natural surroundings, premium natural materials, such as marble, stones, polished hardwood, rattan, and brass fixtures, create an inviting atmosphere paired with stunning interiors and intuitive service, the hallmark of the Aayan Group.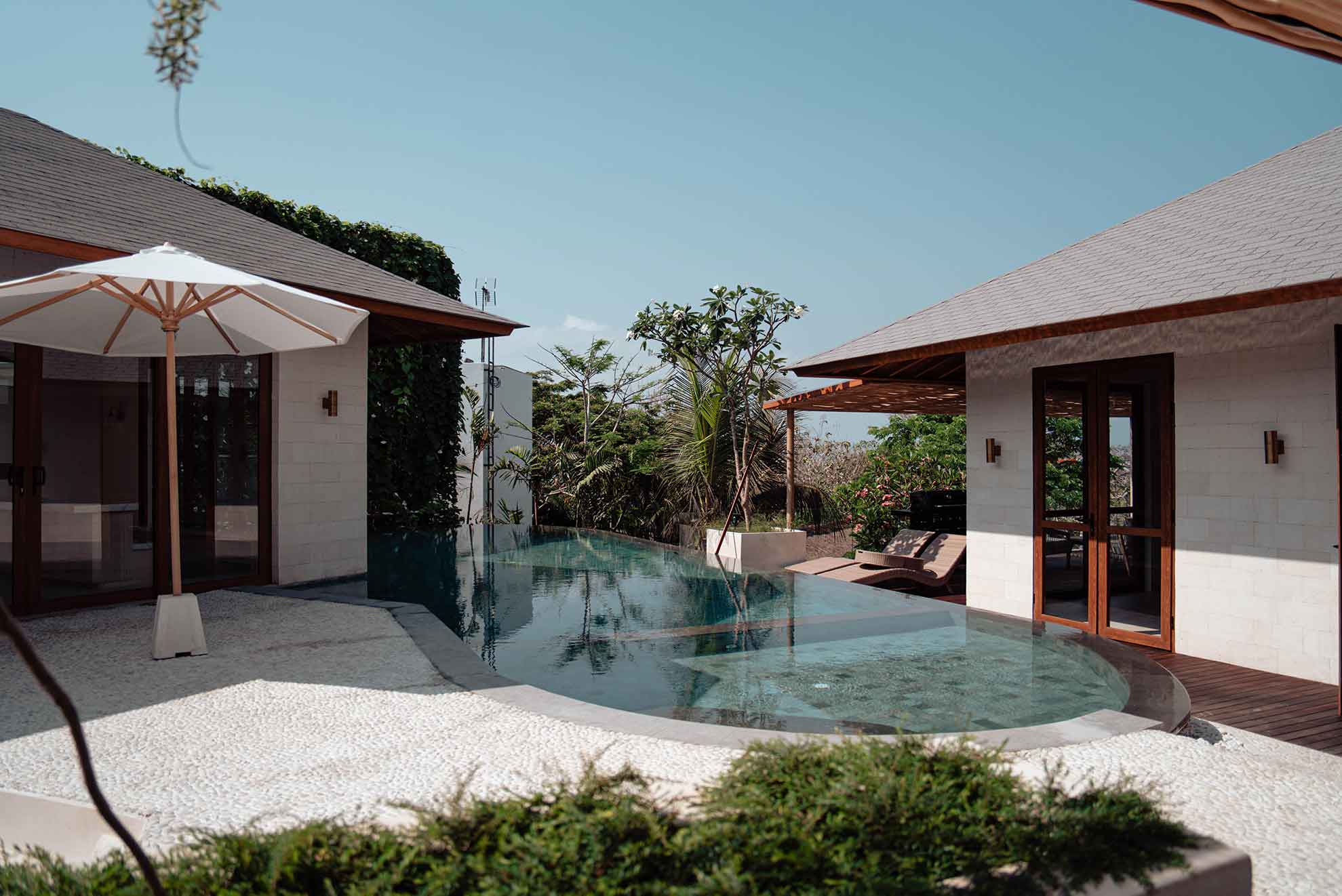 Mr Ankit Anand, Co-Founder & Curator at the Aayan Group said:
"We wanted to create something unique that would appeal to those who seek our signature brand of slow travel & meaningful connections. At Poco Poco Villas, it's all about functional luxury in the lap of nature and intuitive service.
"Who says that nature cannot be luxurious? We worked closely with our designers and architects on a design that would bring the outdoors in while remaining elegant with a lavish ambiance. The result is outstanding and we cannot wait to start welcoming our guests to Poco Poco Villas soon."
The Restaurant & Pool At Poco Poco Villas
Located approximately 18 km or 40 minutes from Bali Ngurah Rai International Airport, the road to Poco Poco Villas leads guests through South Bali's charming towns and locales, including the vibrant tourist destination of Nusa Dua. Guests can easily access popular restaurants, shops, entertainment, beach clubs, and premium spas. Some must-visit landmarks include Pandawa Beach, Savaya, and GWK Cultural Park. 
From the reception, a charming, sun-dappled walkway leads to a gorgeous lagoon pool with an infinity view. The water cascades down to the lower level, creating a delightful mini waterfall that falls right into the garden. "Floating" above the pool is a little restaurant decorated in the classic Indian Mughal style, a bar, and a swim-up pool bar. In the distance, the sparkling ocean beckons, welcoming guests with the refreshing scent of the ocean breeze.
Stunning Interiors & Five-Star Amenities 
Right next to the pool and the restaurant is Poco Poco Villas' main entrance which leads to the communal living & dining area and a fully-equipped gourmet kitchen. A wide covered balcony runs the length of the floor with outdoor dining & seating areas and lovely views of the garden. Guests can relax here, unwind with ice-cold drinks, watch the sunset, or enjoy a delicious dinner under the stars.
Five Stunning Bedrooms & Suites
Poco Poco Villas has five beautifully appointed bedrooms with en suites – one is on the top floor and three are on the second floor while the fifth suite is in its own nook away from the main house. 
Guests can book individual bedrooms or the entire property as one large villa for the ideal getaway with friends or family. All bedrooms are light, bright and spacious with their own elegant colour scheme and unique accents, spacious ensuites with indoor/outdoor showers, work desks, his and her vanities and walk-in closets. 
The first bedroom, or the Satu Master Suite comes with its own study or library, a bedroom area and a large ensuite featuring a large soaking tub, an outdoor shower & a walk-in closet. 
On the floor below is another communal living area, a garden and a cinema that can accommodate up to 12 guests at once. On this floor, there are two bedrooms – Dua and Tiga – each with its own floor-to-ceiling sliding doors for direct access to the beautiful garden, and its own private terrace that ensures privacy away from prying eyes. Both bedrooms offer similar beautiful designs but with different colour schemes and accents.  
The fourth bedroom or Empat is delightfully designed for children, with a set of twin beds, and decorated in forest green and wood with exquisite wallpaper depicting woodland creatures. The bathroom here is laid out so uniquely, with a set of steps leading down into an enclave where the toilet and shower are split for privacy and space, with his and hers sink and two separate closet areas on each side.
Through the blooming garden, there are stone steps leading down to a private suite. This is Lima Suite, ideal for honeymooners who want to spend their days in each other's company. It's also perfect for wheelchair users and those with impairments as it comes with its own private entrance with no steps or long walkaways. It's the only accommodation with its own swimming pool and entrance and a flatscreen TV that is hidden in an automatic TV console. There's also an indoor-outdoor shower and a walk-in closet with floor-to-ceiling windows for maximum natural light throughout the day.
Activities & Excursions
On its grounds, guests at Poco Poco Villas will find a spa and a mini gym. There is also a basketball court and table tennis facilities for those who fancy a game or two. Guests can also book a cooking class or a yoga session in advance.  
Poco Poco Villas by Aayan proudly offers exceptional & personalised service to all guests, with experiential-based getaways that are truly one-of-a-kind, and enhanced concierge services and personal valets to cater to their every need. 
For more information about the Aayan Group and Poco Poco Villas, please visit www.theaayan.com