Introducing Kokomo Villas by Aayan, a collection of beautifully-designed and aesthetically impressive holiday homes in the heart of Umalas. Overlooking a hidden pocket of ricefields hidden away in a quiet lane, these stunning boutique villas were designed for the discerning holidaymaker, providing a peaceful sanctuary in one of Seminyak's most prime and sought-after locations.
There are five villas, each distinctively unique and characterful, with a variety of layout that maximizes natural light and functional spaces. Interiors differ from villa to villa, but amenities are always best-in-class, with the latest curated comforts and conveniences available at guests' fingertips.
Guests can look forward to semi-open or closed living and dining areas, a kitchenette with a breakfast table or a kitchen island, a lush tropical garden with sundecks, and a swimming pool. Bedrooms come with comfortable beds with pillow-top mattresses and a whole menu of pillows, a walk-in closet and spacious bathrooms with rain showers and vanities.
Each villa offers its own theme, always a delightful and harmonious mix of Balinese features blended with elements from a far-flung dream location.
A favourite with guests is Villa Satu, or Villa One in English. The décor here is dessert-inspired with soothing shades of beige, sand and white. There are palm trees and cactus prints, romantic four-poster beds, and transparent white curtains billowing in the breeze.
Villa Dua or Villa Two features minimalist-style interiors in shades of grey, white and brown with tropical accents. There's a closed living and dining area, a kitchenette and a kids' room, a pool and a terrace on the second floor.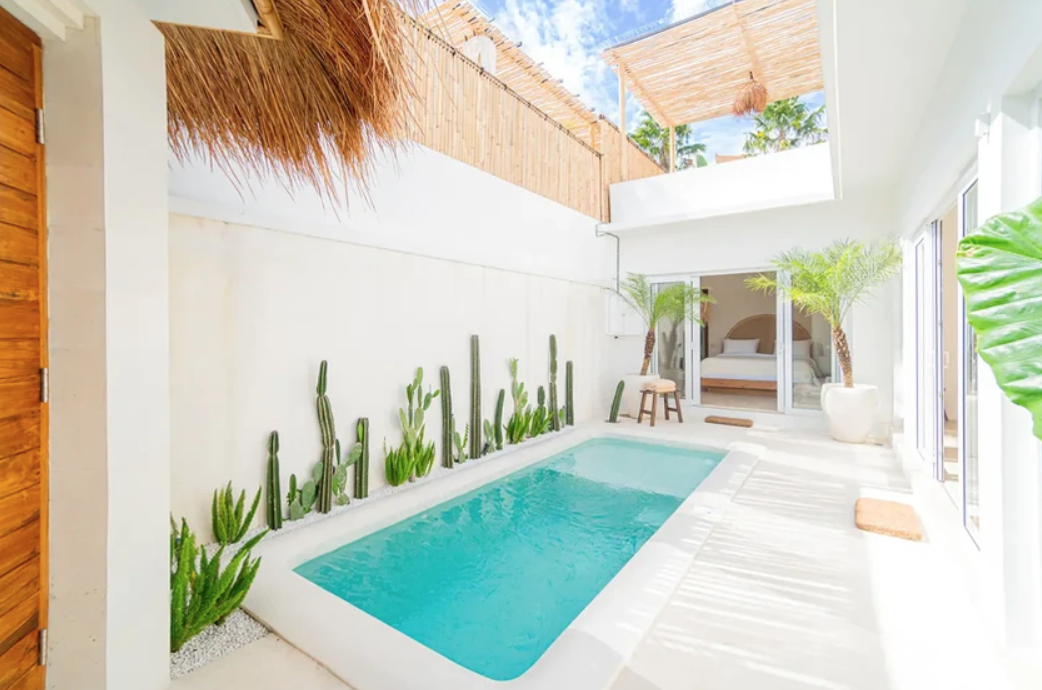 Meanwhile, Villa Tiga or Villa Three is white-on-white with cacti and tropical-themed rattan furniture that will put anyone in a holiday mood. This villa has a large soaking tub and a terrace on the second floor.
Villa Empat or Villa Four is inspired by the rich tapestry and cultures of Morocco, present in the use of traditional lanterns, wall carvings and an extra-large bathroom lined with Moroccan tiles. This villa comes with a covered, yellow-painted tiled terrace on the second floor, perfect for relaxation, star gazing or yoga.
Villa Lima or Villa Five highlights Indonesia's rich heritage with accent ceramic tiles featuring classic designs in blue and floral motives for a warm and nostalgic touch to a bright and minimalist, modern interior. These unique accent tiles are also present on the covered terrace, on the second floor.
In its efforts to support the local community, Kokomo Villas by Aayan uses only locally procured Bali wood in its furnishings and amenities from coasters to toiletries, baggage tags and stationaries.
Exceptional Service
Kokomo Villas by Aayan proudly offers exceptional and personalised service to all guests, focusing on slow travel, quality and meaningful connections as well as unique and intimate travel connections. All villas are serviced with a Super Valet who is able to organise anything and everything for guests throughout their stay.
Kokomo Villa's Super Valets are trained by the very best in the industry to cook, clean, organise barbeques and even cater or arrange for small parties in the private villas. They can also provide guests with local knowledge, arrange market expeditions, organise picnics and more.
Kokomo Club
Part of Kokomo Villas, Kokomo Club is a live kitchen & co-working space serving authentic & delicious Indian, western and local favourites in an elegant, intimate and inviting setting. Guests and anyone passing by craving for fresh, authentic and mouthwatering breakfast, gourmet bites and healthy bowls are welcome to come in and enjoy.
In addition to freshly brewed premium coffee and tea, the menu at Kokomo Club offers an all-day breakfast menu ranging from Indonesian to American and Indian breakfast with must-tries including Indian Spice Temptation, Buttery Beetroot Bliss and Masala Omelet.
Those looking for something satisfying and nutritious can go for the Wraps and Bites or the Meal Bowl. We recommend the Chicken Curry Club Bowl with Basmati Rice, Ugly Bites and the Vegan & Gluten Free Quinoa Bowl. Also available is the Healthy Veggie Bowl and handmade granola, great for vegans and vegetarians and new on the menu are mango and dragonfruit smoothies.
Everything on the menu at Kokomo Club is prepared with only the freshest raw & local ingredients purchased in small amounts daily to ensure optimal freshness and taste.
Coffee lovers must not leave without trying the Indian Coffee Delight where coffee beans are hand beaten in a cup with hot milk to produce a delicious, frothy and aromatic, full-bodied coffee with just the right amount of bitter and nutty notes.
Cold press juices are also on the menu, alongside plant milk, coconut fusions, herbal teas and infusions.
For more information about Kokomo Villas By Aayan, please visit www.theaayan.com or click here to discover more about The Aayan Group.
Kokomo Villas by Aayan
Kerobokan, Kuta Utara, Badung Regency, Bali 80361