Better Than Sunset: Dinner at Canna Bali
Written by Diana Abd
A spectacular new dining destination has opened its doors in Nusa Dua. Perched along a low-hanging cliff overlooking the sparkling white sandy beach of Sawangan, Sky Restaurant offers visitors an exclusive dining experience in sumptuous settings that is just steps away from the sea. With a thrilling menu featuring decadent beachside bites, international must-haves and Indonesian favourites, it is 'casual dining' at its best, and guests can look forward to an impressive experience with unimpeded views of the Indian Ocean from every angle.
The restaurant itself is part of Canna Bali – a newly opened, trendy beachside venue that comprises a day club, a night club and restaurants, Cliff – slated to open in early October this year.
Open to guests of all ages and awaiting its grand opening, Sky Restaurant is housed within a venue that mimics the traditional Indonesian long-house. Gorgeous wood interiors, vaulted ceilings, giant potted plants and sumptuous décor with floor-to-ceiling windows and gilded mirrors create a lavish ambience for discerning diners. The restaurant's elevated position overlooks the pool area and the beach below, making it ideal for private events, an intimate weddings and families and couples wanting a quiet moment while dining.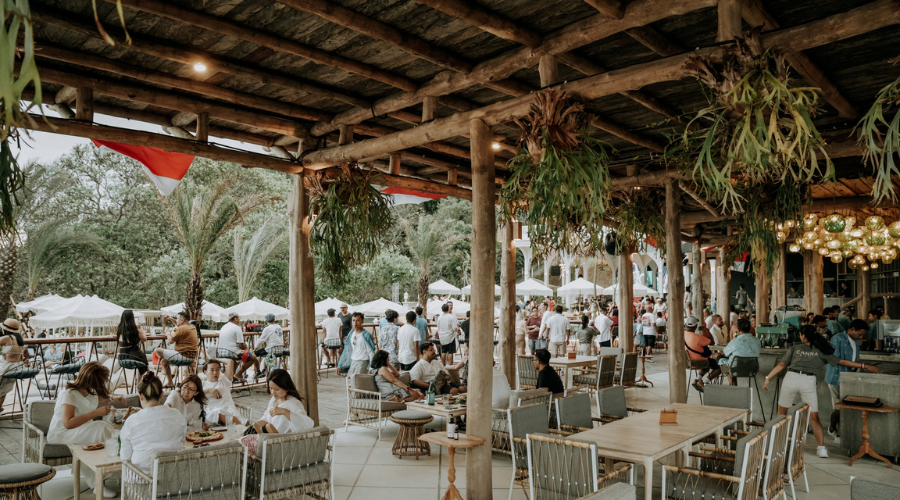 The Man behind the kitchen at Canna Bali, Chef Chandra, oversees a team of 50. He is also the man behind the menu which he had curated from scratch. With over 30 years of experience in the culinary world both in Dubai and throughout Indonesia, his skill and knowledge are unmatched – this is clearly reflected in every beautifully plated dish – all 86 of them – and in every satisfying bite.
This is no regular beach club. "We take our food very seriously," said the Chef as he takes us through some of his favourite dishes. A dining experience here emulates all the senses, from the delicious smells that beckon as the food approaches the table, to the stunning plating, and the textures and flavours that follow.
As they say, "the proof is in the pudding" or in this case, the bread – Canna Bali offers an amazing pizza selection that is all made from scratch. The secret is in the dough, said the Chef – as he proceeded to tear into the crust to demonstrate the quality of the sourdough, which takes 3 days to properly make.
We tried the Sushi Platter. Beautifully presented on a bed of icy coral, it comes with fish so fresh that it melts in your mouth. Food connoisseurs know that it can take decades to master the art of sushi – trust us when we say that the sushi at Canna will give any master a run for their money.
The Smoked Sin Shank Sei Sapi is a must for beef lovers. A traditional dish from East Nusa Tenggara, the modern interpretation at Canna is served with fresh rocket leaves, lemon garlic dressing and a side of sambal embe. Premium imported slices of beef are meticulously cooked for hours over coconut husks and hot glowing coals for a deliciously smokey flavour with mild woody undertones.
The Fettucine Truffle Tobiko Shrimps speaks for itself – its name alone is enough to tantalize the taste buds. We were told that this is one of the most popular dish with guests. A beautiful bowl of creamy pasta with sauces made from scratch, a touch of truffle and the largest and plumpest prawns you'll ever see.
The Indonesian staple, Nasi Goreng, has received a "Canna glow up" here at Sky Restaurant. With a gorgeous medley of local flavours, herbs and spices, guests can choose from Spicy Lobster, Wagyu, Shrimps and Crab, Pork or Chicken. The Spicy Lobster Nasi Goreng came with juicy lobster meat, served in an alluring red lobster shell.
Another Indonesian must-try is the Gulai Snapper, fish stewed in turmeric, lemon grass and coconut gravy. There's an entire section of local favourites that are worth exploring, all made with the freshest and most premium ingredients from across the archipelago.
Fresh seafood on ice is also available, perfect with champagne. Guests can choose from toro, oysters, king prawns, Alaskan king crab leg, caviar or a mixed seafood platter. Those who prefer a hot grill can dine on spring chicken, Norwegian salmon, baby back pork ribs, Australian flank, and Wagyu beef.
The chef said he takes a personalized approach with guests, understanding that every individual has his or her own unique preferences when it comes to dining. What the menu offers would encapsulate this seamlessly, keeping all cravings satisfied no matter the time of day. Families, children, tweens and teens, couples, and solo travellers seeking a relaxing, elegant and uplifting venue for sand, sun, sea and party, will love Canna Bali.
Not just the spot for great dining, guests looking to party can expect an impressive array of cocktails, mocktails, wines, beer and spirits. There is over 30 different champagne selection and soon, over 200 red wines to choose from.
Those soaking up the sun by the pool must try the Popsicle Cocktail, a pretty, colourful concoction that will blow up any instagram feed. Whether you're coming to relax, swim, or enjoy quality time by the beach will enjoy the bottled cocktails or mocktails, great for couples and groups. Sip on Signature Canna cocktails on stools overlooking the beach or on the daybed alongside two pools. There is a DJ booth, and fantastic lighting and soon, the nightclub, called "The Cave" will open its doors to nighttime thrills. A VIP section with rooms and overnight stay packages will also make its debut soon.
---
CANNA BALI
Exciting times are ahead for Canna Bali. Guests looking to explore all that the venue has to offer can walk in or visit:
Jalan Raya Nusa Dua Selatan, Bali (80363) – Indonesia
Customer Relation :
For Reservations and Information :
Instagram : @canna.bali
email : info@cannabali.com
website : www.cannabali.id